Westhues Family Love Story
In the late 1800s in Germany, there lived a young man named William Westhues. William was the third son of a farming family that owned land near the town of Werne. Since land was inherited by the eldest son, there was little chance that William would become a landowner. William was in the German army and his job was to care for a high ranking officer's horses. One of the advantages of this job was that he was able to ride on very good horses while "exercising" them.

One day, while riding, he saw some young and attractive girls. He found an excuse to talk with them and soon found himself quite taken with Theresa Peters even though he was more than 10 years older than she.

After a time and more talks, he called on Theresa's parents to ask permission to court her. Theresa's father said that the marriage would not be fair to William, since Theresa had a tumor in her chest and was not expected to live very long. William is said to have replied; "If she stays with me, SHE WILL LIVE!"

William and Theresa married and had children in Germany. In 1892, they emigrated to Glasgow, Missouri, USA and bought a farm. By this time, the couple had 6 children. Four more children were born in Missouri.

The photo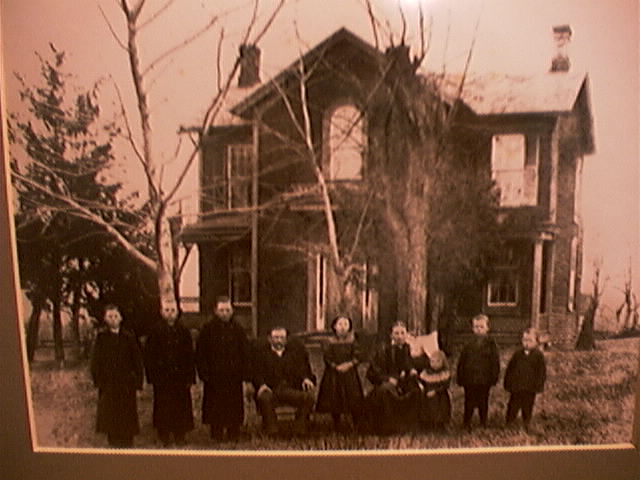 shows the family in 1896 standing in front of their house. The little girl standing next to her mother is Mary Anna (3 years old). She was the first child born in the U.S. She is also my grandmother. (click to see larger photo and names.
Mary Anna grew up to marry Joseph Flaspohler. The Flaspohler Family is shown in front of their nearby farm home about 1895. Joseph is in his father's lap. (click to see larger photo and names.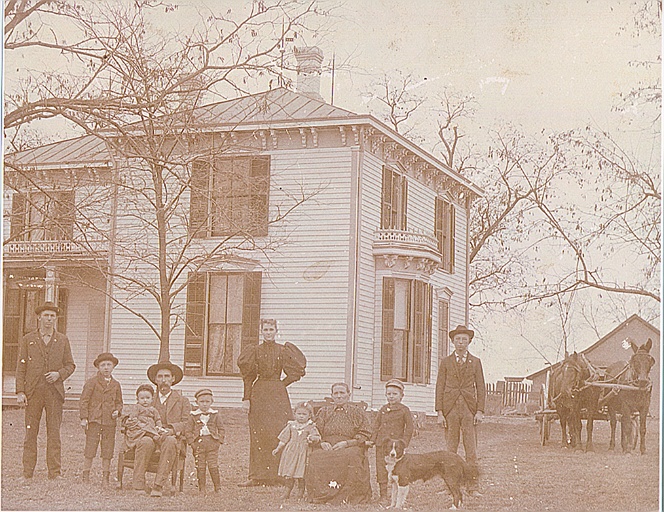 Their children included Mary Teresa who married J.Y. Miller. The Miller's had one son, James Y. Miller (me). I married Mary E. Henderson. We have one son, J.Y. Miller III. J. Y. III married Lori Maurer in 2001. They have two sons, Addison James Miller and Jackson James Miller.
William Westhues died after a fall from a horse on 6 OCT 1921. He was 73 years old. His wife, Theresa, died 21 JUN 1926. She was 66.
My cousin, Anthony Westhues, now lives in the same house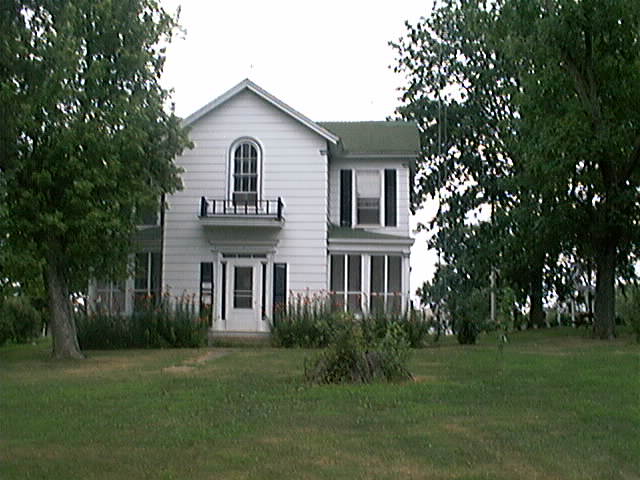 on the family farm. A few years ago, we had a family reunion in that yard. Among the 500 people in attendance were Westhues relatives from Germany that still live on the family farm there.
Westhues family tree.
Return to J.Y. Miller's page..
URL: http://www.jymiller.net/love.html Updated: 23 MAY 2013